From 100 ideas to 1 pitch in 24 hours
Sjors Latour - Projectmanager Wholesale
"I admit, waking up in the morning at Rabobank headquarters was something I didn't expect to ever do"
Sjors Latour works at Rabobank's head office. As Project Manager Wholesale he looks at how the bank's services to large companies will change in the future. He joined the bank in 2018 as a trainee and has now found his current position. "The traineeship at Rabobank works with a buddy system. In the first period of my new role, I got a buddy who organised Attack your Bank last year, an internal event for improvement ideas in the bank. He asked me if I wanted to organise this year's edition".
What's Attack your Bank?
Sjors: "Attack your Bank is an annual event within Rabobank. We want to use the critical eye of employees to improve the bank. Who better to come up with solutions and ideas for improvements than our colleagues who work at the bank? All employees can take part, within a short period of time you get the opportunity to come up with ideas on specific themes with a team and pitch them in front of a jury. We learned from previous editions that the outcome of the solutions was not always concrete and innovative enough. It was just not detailed enough to really get on with it. We wanted to change that.
Where did the idea come from?
Together with four other trainees (Tom van den Dool, Lotte Kraaijenbrink, Sari Holtland and Fadoua Ajjaji) Sjors took the opportunity to organize Attack Your Bank this year. But they wanted to make it bigger, to make the event last a bit longer. They got support from the CEO of Rabobank, Wiebe Draijer. Sjors: "Among other things, he said, it's Attack Your Bank, not Aai Your Bank. The fact that the CEO of the bank is open to our feedback in order to do things differently gave us an extra push to do things a bit bigger, a bit tougher".
The team went to work and so they came up with the idea to organize a 24-hour hackathathon. "That gives us room to work long enough with teams and experts from Amazon, McKinsey and the Swedish oatmeal brand Oatley on a challenge," says Latour. "With the help of our Digital Transformation Office colleagues, we quickly learned to come up with 100 ideas around a theme. And how to bring that back to 10 good ideas and one best idea that sparks you to pitch."
The CEO of the bank was open to our feedback to do things differently
What does the hackathon look like?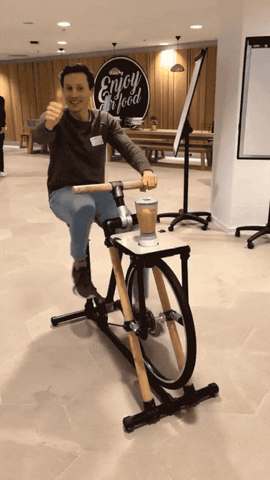 "The subtitle of the hackathon was "Designed to be deleted", a call to the teams to come up with ideas that make today's bank irrelevant. How do we respond to a rapidly changing world and get ahead of the rest?
The 10 teams of 6 people each worked on different themes such as the future of healthcare, food and housing. The most important issue is what Rabobank's role will be in those areas. In those 24 hours, the participants did not work alone. We had a disco-bingo, smoothie bikes, we slept on the couch, sported together and had breakfast. In the morning all teams had the opportunity to validate their idea with selected colleagues. At the end, all teams pitch their idea for Wiebe Draijer and various professionals in the field. Here we had 9 great ideas, two teams decided to work together on a similar idea. The ideas ranged from the bank's role in the energy transition to new financing products for the housing of the future."
What role does Rabobank play?
"Anyone who wants to participate can apply. As a cooperative bank, we're looking for collaboration, so in addition to our own colleagues, people from outside the bank might as well join in. We do need to make a selection so that we can make good teams. During the organisation, we had very good contact with all kinds of departments. For example, with the Digital Transformation Office about the process from an idea to a good pitch. As well as consultation with security, catering and facility services. After all, we're inside the building for more than 24 hours".
What will be done with the ideas?
"Rabobank has also given the winning teams access to present the ideas to a relevant subsidiary. For example, a team will soon pitch their idea at BPD, a construction fund that is part of Rabobank. Not all the ideas that have been presented are immediately deployable or feasible. That does not mean that nothing will happen with them. Within the bank, departments and people are enthusiastic about the hackathon. They want to take part again next year, or organise it themselves. This is the first time that we have organised the event in this way and it has been a great success. That's what I like about Rabobank. We wanted to organize this event in a different way and we got that freedom".
Check the aftermovie below to see how the hackathon happened at Rabobank